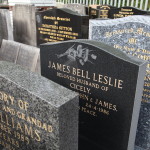 Memorialise your loved ones with specially created  gravestones in Ellesmere Port. Our philosophy at Birkenhead Monumental is to create enduring tributes that are dignified and timeless. We provide the entire range of such memorials in a variety of colours, shapes, sizes and designs. We can include flowers, religious symbols, military and sporting badges. Additionally, our dedicated and experienced team can assist you to choose the perfect lettering, inscription, layout and fonts. As you know, there are several guidelines and regulations regarding the installation of gravestones. Some of them are mandated by churchyards, while others are provided by the local councils. We can take care of all the paperwork and ensure that you choose a gravestone that is in compliance.
For families in Ellesmere Port, gravestones, headstones and memorial art are to be chosen with care and mindfulness. This is because they are meant to last for generations to come. They represent a focal point in the graveyard so that people can easily locate the grave. The gravestone also commemorates, honours and memorialises the departed soul. Since they are permanent fixtures, it's important that you don't regret your choice or wish you had done something different at a later stage. Don't feel pressurised or rushed while making your final choice. Ensure that all those who matter are kept involved in the process. Take different opinions and arrive at a consensus. Most often, one member of  the family is happy to take the decisions.
Gravestones in Ellesmere Port that are installed in churchyards may have to comply with guidelines set down by the concerned authorities. Usually, churchyards prefer that inscriptions do refer Christianity. Reflective material is not permitted and the use of bold colours or ceramics is also prohibited. Contact Birkenhead Monumental for assistance. We can give you all the information you need to create a unique and special memorial for your loved one. There are different types of gravestones and headstones such as upright, flat and kerbed. Memorial art is a matter of personal choice. In general, it's advisable to keep the design simple and clutter-free. This ensures that the important information, such as name, dates and inscription are highlighted.