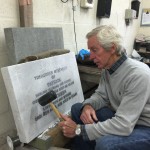 Speak to Birkenhead Monumental for plaques in Wirral for an appropriate way to remember a lost loved one. You can personalise your plaque and include words and images to make the plaque more personal. They can be created in different ways and can be as modern, traditional, ornate or as plain as you like. At times, people struggle to find the appropriate wording for their memorial plaque. We can assist you make the most suitable choice. We are aware of the regulations governing headstones and memorials. We can take care of all the paperwork and submissions to ensure your plaque is legally acceptable.
Our memorial stones come in lots of different colours and we will provide help and advice on colouring, wording and choice of symbols. In Wirral, plaques that are beautifully crafted are a testament to the life once lived. With our 50 years of experience, we can assist you in choosing the most suitable and memorable plaque. Our mason is the only hand letter cutter in Wirral, and as a family run business, you can be sure that you will receive an exceptional service. We operate in the North Cheshire Trading Estate Prenton, where we provide our customers with a one-stop service. All our memorials are erected to Health and Safety standards. Our plaques are individually designed to bear a silent testimony to the person buried. Our experienced craftsmen are happy to answer your queries and engrave any design that appeals to you.
If you need assistance in creating or choosing plaques in Wirral, contact Birkenhead Monumental. We can provide a full range of plaques in all colours. You can make a choice from a number of designs including flowers, religious symbols and military and sporting badges. If you have a design that is particularly important to you or has some significance to the life of the deceased, we will be happy to incorporate the design. Our services also extend to cleaning and renovating plaques. We can provide a written estimate on the work required to restore it to its former state.