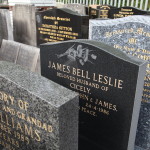 For some of the loveliest high-quality memorials in Bebington, pay us a visit.  We have a wide range of stones of many different types which are used for designing and manufacturing memorials. The colour and design of the memorial is entirely up to the family who commissions it but our very experienced staff can help you choose wisely. Some stone material is softer than others but is sort after because of the colour and sheen. All stone is long lasting but some weathers better than others. All these options will be explained to you when you come to make your choice.  We use many different stones and each has a unique aspect. Marble is translucent and snowy white and can be carved into complicated and intricate shapes. Granite is available in a wide range of colours and interesting patterns and hues.
Choosing a headstone for the grave of a loved one is never easy. In Bebington, memorials are always an individual and unique choice which our staff can help you with. They know the size of the stone required for the different churchyards and cemeteries and will advise you accordingly. The heartfelt words that you put on the stone are your own way of expressing your love and emotion of the deceased loved one. We will help you personalise the stone with badges or emblems that are a permanent reminder of the life of the beloved family member.
We are one of the best-known and trusted manufacturers of memorials in Bebington. Contact Birkenhead Monumental today or visit our showroom to view some examples of our specialised work. Our proprietor, David Williams is a fully time served stonemason and is the only hand letter stonecutter in the Wirral area.  We have over 50 years of experience in the monumental trade and have therefore a great amount of knowledge of stone and of the rules and regulations of the churchyards and cemeteries in the area. We have an additional staff of six dedicated craftsmen to help with designing and manufacturing the stone memorials and the firm is run by David, his wife and son.