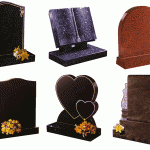 If you are looking for skilfully crafted cremation stones in Ellesmere Port, we are available to assist. A cremation stone is an honourable way of remembering the deceased. It is also a way of paying your respects to the life once lived. As an alternative to cremation scattering, some families prefer to have the ashes placed in a convenient location or a place with special meaning. The cremated ashes of their loved ones are placed in a cremation urn protected by a permanent monument or cremation stone. Choosing the right cremation stone takes careful thought. A cremation stone can be as large as a traditional gravestone. It can be designed according to your specifications.
For your lost loved one's memorial site in Ellesmere Port, cremation stones are available from T. Lyon & Son. It is important to choose a final resting place where you can place the cremation stone. This will provide your family and friends with a focal point to assist them in remembering the life that was lived. We know how important choosing the most appropriate memorial is. Memorials come in a variety of materials, such as granite and marble, and you can choose the stone that you prefer.  We have a number of different styles displayed in our showroom. Our expert team can assist and guide you on your choice.  Once you have chosen the stone you prefer, we can inscribe your stone.  You can choose the words that will appear on the stone.
Cremation stones in Ellesmere Port are crafted by master craftsmen who have many years of experience. If you are looking for cremations stones, contact T. Lyon & Son. We will ensure that the cremation stone you chose for your lost loved one is a fitting tribute. We can design a cremation stone or memorial to your specifications, subject to the cemetery rules and regulations. We also offer other services regarding memorials. Should you have a memorial that is need of care and attention, we can assist in cleaning and repairing the gravestone.