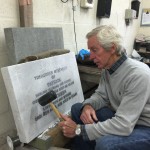 You can rely on stonemasons in Blacon to provide a bespoke and professional service. Choosing a headstone is an important decision and is one that needs careful consideration. A memorial or headstone is a lasting tribute to the life lived. When you choose a professional, experienced stonemason, you can be sure that you will receive the right headstone for your specific preferences. We have over 50 years of experience in the monumental trade. As such, as we're highly experienced stonemasons, we can assist you with your requirements.
We are members of BRAMM. In Blacon, stonemasons offer a range of services. We design and craft lasting tributes. In addition, we can also assist with inscription services, gravestone cleaning as well as gravestone refurbishments. We can provide a range of different types of headstones. Our stonemasons can also provide advice on the most appropriate stone for the headstone. Moreover, our proprietor is the only hand letter cutter in Wirral. He is also a fully time served mason. Each memorial that we create is carefully and professionally carved. This, in turn, ensures longevity and a lasting, special tribute. Speak to us about your requirements, or, if you have any questions, we can assist. Our craftsmen can etch your preferred design on the gravestone, as well as your chosen inscription.
Stonemasons in Blacon ensure that you receive the best attention and the highest quality product. A gravestone can serve as a poignant reminder of your lost loved one to all who visit his grave. If you're looking for professional stonemasons to assist you, contact Birkenhead Monumental. Each one of the memorials we create is erected to the required health and safety standards. They also have a ground anchor foundation. This means that the gravestone is anchored so that it is secure and will not fall in the future. Stonemasons can create a headstone for your lost loved one that will provide a lasting, dignified tribute. We take pride in our workmanship, our customer service and our excellent reputation.