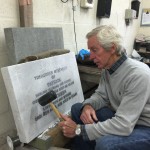 When it comes to funeral planning, lettering on headstones in Bebington is a very important part of the process. After all, this is the final mark that will be left for your loved one on this world, so it is important that the lettering is elegant, respectful, and reflects the life that it is memorialising. To many people, lettering may be the last thing they are considering in such a delicate time, but it really is a very important thing to be thinking about. Let's take a moment to talk about why lettering is such a vital thing to plan in the mourning and funeral process.
If you are planning a funeral in Bebington, lettering on headstones may be the last of your concerns. The funeral itself may be the biggest thing on your mind. Consider this, though, the headstone is meant to be the final memorial to your loved one. Wouldn't you want the lettering on that headstone to improve that memorial? Without proper attention, the lettering may actually detract from the monument you have erected. For this reason, the lettering you select needs to be elegant. Elegant lettering will be clear and legible, and it will help viewers understand who your loved one was as a person. But, while the font and style of the lettering is important, what the lettering actually says is equally as important. You will want to mark something on the headstone that reflects their worldview and personality. Perhaps a quote from their favourite book or author, or maybe you want to put something they often said. If your loved one is deeply religious, an excerpt or passage from their religious text may be appropriate as well. Whatever it is, be sure that it honours and celebrates their life here on Earth.
For the best care for lettering on headstones in Bebington, be sure to contact  Birkenhead Monumental. With over 50 years of experience, we understand your loss and will provide the proper treatment for your loved one's headstone. Call us today to learn more about what we can do for you and your loved one. Let us leave the last mark that will last for generations.