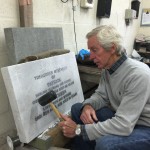 For memorials in Chester, you may want to choose a headstone that will tell a story of your loved one. You will have to decide on the headstone type, colour, size and shape that most accurately fits your loved one. In order to get the memorial you like, you will need to select a headstone engraver that has the experience and craftsmanship to prepare your memorial headstone the way you want it done. Select a Bible verse or a quote or saying that will remind people of your loved one. You may even decide to add a photo. Whatever you decide, you should take the time to come up with something that has a strong meaning for you.
When you have decided what to have inscribed on the memorial headstone, you need to find an experienced engraver to complete the job for you. In Chester, memorials are engraved by Birkenhead Monumental. They will give you a no obligation consultation with their designer and prepare a colour example of your memorial. They have a wide range of shapes, sizes and colour of memorial headstones to choose from. They apply quality craftsmanship to every project. They will make sure that you are satisfied with the outcome. You can select from marble, granite or rustic designs. They also offer special options for children's memorials. With over 50 years' experience in the monument trade, Birkenhead Monumental is a family owned and operated business. They pride themselves on providing the highest quality products and services.
Memorials in Chester prepared by the master craftsmen at Birkenhead Monumental will meet and even exceed your expectations. Contact Birkenhead Monumental about the memorials they have on offer. You can speak to them about the designs and inscription you have in mind. They have extensive experience in the business so you can depend on them to give you the best quality headstone and the best advice.