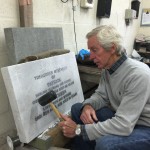 A monumental mason in Ellesmere Port can help you choose or design the perfect headstone for a grave. Over 30 years of experience and dedication to exemplary stone masonry really shows. Qualified stone masons and artistic designs make Birkenhead Monumental the monumental masons to use for your headstone. Styles and materials will depend on your vision for a perfect headstone. Materials include snowy white marble and granite in a large array of colours. Depending on what your envisioned stone entails, either of these materials will create a stunning monument. Granite is slightly harder wearing than marble and does not discolour so easily, although marble can easily be restored to its former whiteness.
When you need a headstone in Ellesmere Port, a monumental mason can help you design a stone that is dignified and represents all the most meaningful memories of your loved one. In the hands of an expert, the stone can take on any form you wish. Military and sporting badges can be etched onto the stone in memory of the loved one's accomplishments or hobbies. The same can be done for a cremation headstone. This is usually the same size as a gravestone as there is normally more than one person buried in the plot. All the paperwork for the church and council are dealt with by the monumental masons. Different churchyards have different rules and regulations and the monumental mason will advise you on what is acceptable to the churchyard you wish to erect a stone in.
A monumental mason in Ellesmere Port will help you to choose the perfect wording for the stone. This will be carved into the stone and the letters are often painted to emphasise the words. This can be done in a number of different colours. Contact Birkenhead Monumental today for the very best gravestones and cremation stones. The prices are reasonable and the workmanship is outstanding. These stones are fitted by the extremely competent and qualified staff and adhere to the stringent standards required.