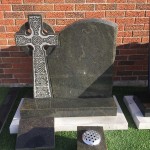 Search for memorials in Ellesmere Port made by expert craftsmen. Choosing the most suitable memorial for a loved one's resting site is important. If you are uncertain about the type or size of memorial, speak to Birkenhead Monumental. We have a large range of the highest quality memorial headstones to choose from. They can also be tailored to ensure a lasting and fitting remembrance for the deceased. We are expert craftsmen, ensuring each memorial is lovingly created with an attention to detail and a high standard of workmanship. It is important that you choose the right type of memorial. In times of emotional distress, making a decision can be quite difficult. The kind of gravestone you choose should represent the personality of the deceased. With the help of a qualified, skilled, and highly experienced monumental mason, such as us, choosing a good quality gravestone will be easy.
When you need a gravestone in Ellesmere Port, memorials can be chosen from Birkenhead Monumental. We use a range of different materials to create our memorials, from granite and marble. We offer a wide selection of styles and designs that cover a number of different subjects such as flowers, animals, books, crosses and birds. Should the deceased have a favourite bird or flower, we could make use of that particular design.  We also produce tailor-made memorials in different shapes and colours and can design cremation stones that are the same size as burial memorials.
For professionally crafted memorials in Ellesmere Port, contact Birkenhead Monumental. We are a local family owned business that has been established for many years and have gained a well-earned reputation over the years for delivering a one of a kind service. As a B.R.A.M.M. licensed masonry firm, we are well equipped with the right masonry skills and facilities to create as well as maintain memorials. We have over 30 years of experience as a professional and caring family-based team to handle all types of gravestones that befit the deceased.