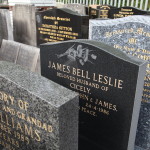 The type of lettering on headstones in Widnes that you choose should reflect the person laid to rest beneath it. The writing on a headstone acts as the final message of the dearly departed, not only in the meaning of the words but in the way the words are presented. For example, a very cursive, embellished lettering may be found on the headstone of an eloquent, dignified lady, while a bold and simplistic typeface could very well suit a matter-of-fact, focussed businessman. Of course, this is all dependant on the person arranging the engraving on the headstone. As such, a fair amount of thought should be given to the lettering and wording to be engraved on a headstone before making a snap decision.
Speak to Birkenhead Monumental for assistance with headstone lettering and engraving. In Widnes, lettering on headstones is our area of expertise. We engrave in marble and granite as well as occasional unconventional materials too. Let us help you pick out a memorial headstone in the right size, shape and material and have it cut for you. We can then chat about the engraving. If you are feeling at a loss, we have plenty of past work examples as well as a compassionate and caring attitude. Together we will find the most fitting sentiments to include on the headstone. We can also show you the different typically used fonts and phrases and what they signify to help you come to a decision. Alternatively, if you have something different or unique in mind, we will be happy to accommodate your wishes as far as possible.
Saying goodbye is never easy, but with well-designed lettering on headstones in Widnes, you can bid farewell in a loving remembrance of the deceased. Let the lettering that you choose for their headstone pay tribute to them for many years to come. Contact Birkenhead Memorial for top quality lettering on headstones. We have over 50 years of experience in the field and have an eye for fine detail and form. As the only hand letter cutter in Wirral, our expert stonemason will hand engrave your headstone lettering to perfection.