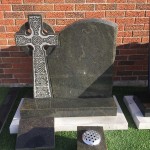 We offer beautifully carved headstones for graves in Leasowe at Birkenhead Monumental. We have over 50 years of experience within the monumental industry, and our proprietor David Williams, is Wirral's only hand letter cutter. We are family run, and we employ a dedicated staff of 6 craftsmen, who always treat every project with the highest degree of quality and attention. Our business was originally located in Borough Road Birkenhead, hence our name, and we are currently located at our factory in North Cheshire Trading Estate Preston. This new factory allows us to give our customers a one-stop-shop type service, and to produce all of our headstones in one place. The factory also houses our memorial display area and sales office.
For those looking for a memorial in Leasowe, headstones for graves from Birkenhead Monumental are very high quality. We offer a large range of tailored memorial headstones which are lovingly crafted by highly talented experts. Our designs range from the traditional to the modern, and each headstone is large enough for a personal inscription, which we can gladly provide. In terms of materials, you can choose marble, rustic or granite, in order to create the perfect memorial for your loved one.
We can supply bespoke headstones for graves in Leasowe. We also offer a cremation stone service, and we can build them to any specification dependent on cemetery or churchyard regulations. Cremation memorials differ in size depending on whether they are to be placed in a churchyard or a cemetery, but since a cremation plot can hold more than one casket, the memorials end up being roughly the size of a burial memorial in order to handle the extra names. Contact Birkenhead Monumental today if you are looking for headstones for graves. Our other services include subsequent inscriptions, where we bring in a headstone from the cemetery into our workshop and inscribe extra names or details, cleaning and renovation, and ground anchoring. We take pride in creating beautiful memorials, and if you have an old memorial that has seen some wear and tear, let us know and we can renovate it.