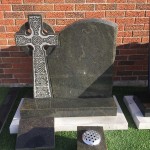 When you are considering placing a grave marker on a loved one's grave then headstone prices in Bromborough become a consideration.  We will tailor make the headstone to suit your budget.  Marble and granite are more expensive that slate or Yorkshire stone but this does not mean that they are more durable or impressive than local stone. The choice of stone is unique to everyone.  The design of the stone can be polished or natural it depends entirely on the customers taste. Whatever style of stone or colour they choose we will erect it in accordance with the rules and regulations of the National Association of Memorial Masons standards.  Rules for different church yards and cemeteries differ on size and shape of stone but our experienced staff will guide you through the red tape and council permits.
When you are looking to have a memorial placed on the grave of a loved one in Bromborough, headstone prices need to be kept within a reasonable price range. Our staff will aid you in the choice of the wording on the stone and the type of lettering required.  We can etch or carve the letters and they can be finished in any colour you wish.  Colours include white to black and any colour in between although the most popular colours are the memorial silver or 23 and a half carat gold leaf.  Badges and symbols can be etched or made in the modern sandblast technique. We can offer a single stone for one person but our double stone is also very popular.  This allows for husband and wife to be buried together.  We will ensure that the lettering matches perfectly.
If you are looking for an affordable stone marker we can supply headstone prices in Bromborough that will suit any pocket. We have many years of experience in making headstones to unique requirements and placing the most wonderful inscriptions on them. Contact Birkenhead Monumental if you would like to find out more about headstone prices. We keep our prices affordable by offering a wide variety of stones which are all long lasting and durable and will stand proudly for many years.