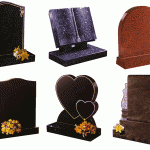 Cremation stones in Ellesmere Port of the finest quality are designed and manufactured by our skilled craftsmen. We use only the highest quality stone available and offer a wide range of materials in different colours. Many people are choosing cremation over burial today and cremation stones have become an increasingly popular choice. There are a number of rules and regulations which differ from churchyard and cemetery. We are able to help you choose the size and type of stone to suit the place it will be used as we know all the rules from long years of association with the various churchyards and cemeteries.
Once the funeral is over you may want to mark the passing of a loved one. In Ellesmere Port, cremation stones can be carved with your inscription of respect and love for a close family member. There are a number of different types of lettering which you can choose. Our staff can help you with the inscription should you wish. The stone can be designed in any shape allowable by the cemetery or churchyard and is usually around the same size as a headstone. If there is to be more than one interment then the stone needs to have space for further inscriptions. These queries can all be discussed with our helpful staff to ensure you receive the stone you require with the message you wish to convey.
Our cremation stones in Ellesmere Port can be individually created to your own unique specifications. Contact Birkenhead Monumental today or visit our showroom to see the wide range of stones we have in stock. Our business has over 50 years of experience in manufacturing and carving headstones and grave markers of all types. The proprietor, David Williams, is the only hand letter cutter in the Wirral and is a fully time served mason. The firm is a family run concern with wife and son and six dedicated craftsmen ready to help you in choosing the perfect memorial for your loved one. We will also clean and renovate existing stones that have deteriorated with weathering and dirt over the years.