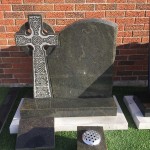 Preserve the memory of your loved ones by investing in beautifully crafted headstones for graves in Caldy.Embellish the final resting place of your loved one with an iconic memorial that will be a testament to the life they lived. With more than 30 years of experience building headstones, our family based business has your best interests at heart and will work closely with you to find the best way to honour your loved one. The headstone stands as a final testament to a person's life and considerable thought is needed before selecting your design. Whether you already have a design in mind or need help choosing one, our highly skilled craftsmen will guide you from the concept stage to actualisation.
In addition to making new headstones, we are also skilled at cleaning and renovating older ones. In Caldy, headstones for graves wear out quickly due to exposure to the harsh winds and corrosion from salty sea water. It is not uncommon for the wording on a headstone to fade away or the structure to crumble. We always have someone ready to visit and inspect the memorial on site and give you an estimate of the work required. In order to work freely, the headstone needs to be brought back to our workshop for renovations. On completion, the memorial will be returned to its original location and reinstalled with a ground anchoring fixing system in accordance with the current health and safety regulations.
To ensure the longevity of your memorial we offer advice to our clients on suitable materials for headstones for graves in Caldy. Moreover, our company is a member of the British Register of Accredited Memorial Masons (BRAMM) who holds us to the highest standards of service to our customers. For more information about our services, contact Birkenhead Monumental today. Once you have selected a headstone design, we provide you with a scaled template of the completed memorial for your approval. Moreover, you don't have to worry about the documentation required by the cemetery and churchyard authorities because we take care of it within our package.