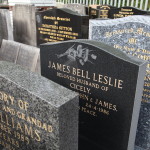 Inscriptions in Widnes can be an addition to the existing headstone.  When another family member or spouse has passed on and been buried one needs to record this on the stone. Choosing the right words can be difficult. This can be done with the help of our very experienced staff.  They can aid you with the wording and layout should you wish. The carved inscription will be done in the same font and typeface as the previous inscription. When you have chosen the appropriate wording you will receive a quotation for the removal of the stone, the new lettering and the correct replacement with the latest health and safety regulations with a ground anchor fixing system. Once you have accepted the quote the stone will be taken to the workshop where the new inscription is added.
When you need to engrave a headstone in Widnes, inscriptions can be personal and heartfelt. Should this be a new headstone you will need help with the type of stone allowed at the cemetery or churchyard. Different burial sites have differing rules and regulations as to what size and type of stone is allowed. Our very experienced staff can advise you on which headstones would be acceptable and they will take care of the paperwork and submissions to church and council authorities. Once you have chosen the stone you can then decide on the inscription. There are many standard phrases and passages which you can peruse. After reading through the selections you can write down your own special inscription. This will be carefully transcribed onto the headstone.
Inscriptions in Widnes are an everlasting memory of your loved one. Contact Birkenhead Monumental for a very reasonably priced quotation for an inscription on a dignified and elegant memorial stone. With over 50 years of experience we are supremely qualified to carry out whatever wishes you may have for a very personal and sincere message. Many other carved adornments for headstones are available from badges to flowers or doves or any other design you may want.