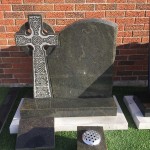 Would you like to know how to get the best headstones for graves in Ellesmere Port as you have recently been bereaved? Losing a loved one is a sad event that the entire family has to face at some point or other. At Birkenhead Monumental, we completely understand the emotions and sentiments attached to ensuring that your dear one gets a final tribute that's lasting and dignified. Headstones are generally flat tablets/markers made of bronze, and granite that are placed on the grave to memorialise the deceased person in keeping with their socio-economic status, personality and the affection they were held in. Headstones reflect personal tastes and the way the deceased person lived. Additionally, there are several restrictions and regulations enforced by churchyards and local councils regarding the type and style of headstones.
We offer a wide selection of memorials and headstones in various materials, colours and designs. In Ellesmere Port, headstones for graves may be chosen keeping the deceased tastes and profession in mind. For instance, we can provide military or sporting badges and religious symbols, flowers and wreaths, different types of lettering, layouts and typefaces to create the perfect commemorative headstone for your loved one. Headstone designs range from the conventional upright or flat ones to kerbed type, cremation memorials and benches, as well as sculpted memorials. Our headstones are exclusively crafted in marble. We can also replace an old headstone which has been damaged or is worn and weathered, with a new one for you.
Installing a headstone or memorial requires you to complete certain formalities as demanded by the local council and church authorities. We help take care of the paperwork as part of the process of creating and installing headstones for graves in Ellesmere Port. Some churchyards specify size, dimensions and materials to be used, while others may restrict the use of flower-vases, statues, wreath-holders and other accessories. We can also help you with wording the text and inscriptions. Contact Birkenhead Monumental if you are looking into headstones for graves.With more than half a century of experience to guide us, we ensure that all our work conforms to current health and safety standards while accommodating your own individual requirements. Visit our showroom for more information.