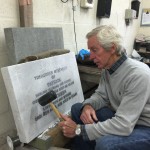 A monumental mason in Caldy is your best option if you are looking for a special memorial headstone for your loved one. Monumental or memorial masonry is similar to stone masonry in that it focuses on creating, installing and repairing headstones and other types of memorials. The latter can be anything that the family chooses to feature on the burial site. Usually, the headstone is engraved (by hand) with information about the deceased person such as their full name, date of birth and death, relationship to other people and anything special about them or what they did. Many people choose to put a short poem or a Biblical verse that is related to grief, love or heaven. Headstones are usually arranged post-burial. The mason will create one out of high-quality stone such as granite or marble. He will consult you on wording the inscription and its style.
Headstones have an emotional significance so you want to ensure that you hire the best monumental mason! In Caldy, a monumental mason at Birkenhead Monumental can provide the headstone you are looking for. We have more than fifty years of experience in this trade. The business continues to this day to be family owned and operated, started by David Williams. Monumental masonry is a highly skilled, rare and much sought-after craft. We're proud to state that we have six such craftsmen! In fact, we're known in the industry for producing some of the finest monumental memorials. When you visit our office in Prenton, you can have a look at examples of our fine work in the memorial display area. This is also a good opportunity for you to have all your questions answered.
If you want to design an apt memorial for your loved one, consider hiring a monumental mason in Caldy. Contact Birkenhead Monumental to find out more about our monumental mason. Speak to us about your requirements, and we will assist you with selecting the most appropriate memorial for your loved one.