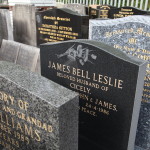 Lettering on headstones in Moreton is putting your feelings into words. This is a way that a lost loved one can be remembered. When you decide to erect a headstone on the grave of a beloved family member, it is your way of remembering a much loved and deeply missed part of your family. Our caring and helpful staff will aid you in finding exactly the right words to place on the stone. We also have a large number of examples so that you can get an idea of how the wording will fit on the memorial. Once you have decided what you want to say, you can choose the lettering. There are any number of different fonts or styles of letters. This is entirely up to your personal taste.
When you are planning a memorial stone in Moreton, lettering on headstones is your own personal remembrance of the family member. The colouring of the lettering is dependent on the colour of the stone and needs to stand out to enable clarity of the message. It would not be a good idea to have pale letters on white marble for instance. Popular colours are gold, silver, black and white – strong and simple colours to enhance the look of the headstone. You may also wish for a picture or a service badge to be placed on the stone. If there will be subsequent family names on the stone we can leave a space so that it can be filled in at the appropriate time. You may have a family member whose stone has become discoloured and illegible over time. We can polish the stone and carefully repaint the letters, bringing it back to its former glory.
Lettering on headstones in Moreton is very personal. Contact Birkenhead Monumental today to discuss the lettering on headstones in memory of a dearly loved person. We will spend as much time as you need on getting just the right sentiment carved in stone. No-one should ever be forgotten and a stone will make sure that they are remembered.