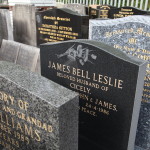 Selecting headstones for graves in Bebington can be a trying task. As you grieve the loss of your loved one and juggle the practicalities involved in sending them off, a gravestone becomes one more thing you have to deal with. You want to select something beautiful and meaningful, a tribute that will remind you of them every time you pay them a visit. You want it to be a tangible reminder who they were. Their position in life, their status, their place in the world. Maybe you even want it to be characteristic, a reflection of their unique personality. How do you cover all this with a few words chipped into a bit of stone?
Here in Bebington, headstones for graves are the kind of thing we deal with. At Birkenhead Monumental, we worry about the finer details so that you don't have to. We are a family business run by our proprietor David, his wife Jeannie, his son Charlie, and a skilled team of six employees that have become part of our family as well. We've been in the gravestone business for more than fifty years. David served as a mason from 1963 to 1968. He cuts all our memorials by hand, and there are no other hand letter cutters within Wirral or its surrounding areas. We combine craft and care to give your headstone clear, legible lettering that will remain sharp and distinct for years to come.
Headstones for graves in Bebington are often made from marble or granite, though some of our clients prefer a rustic style. Many of our customers are too overwhelmed to know where to begin, and we can help out with that. We can advise you on the best materials to use, and we can even chat and help you craft the right message to memorialise your loved one. For more information about our headstones for graves, contact Birkenhead Monumental. If the deceased has been gone a while and their headstone needs revamping, maintenance, or routine cleaning, we offer those services as well. In your moment of loss, give us a call so we can ease the burden of remembering your loved one for posterity.