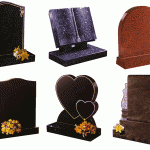 Make sure your loved one's memory is kept alive with cremation stones in Heswall. At Birkenhead Monumental, we have more than thirty years' experience in dealing with different aspects of monumental masonry. Cremations are increasingly being chosen for their simplicity, cost-effectiveness and personal choice. Today, more than 72% of funerals in the UK are cremations. Though this was not a popular choice before the 19th century, today, the demand for cremations has scaled up due to issues of hygiene, space and costs. Churchyards and burial grounds have reached saturation point, posing a serious health hazard.
It's difficult to organise an elaborate Victorian style funeral in this day and age. In Heswall, cremation stones can be designed according to your need, taste, preferences and budget. Most cemeteries and churchyards today provide a separate area or a Garden Memorial where cremation stones can be installed. Many of them specify the design, dimensions and other attributes that they allow. Being a local service, Birkenhead Monumental keeps abreast of all these details so that we can assist you with the right information and suggestions. If you want to scatter the ashes on private property or a public space, you will have to obtain permission from the landowner to do so and also get permission to install a memorial stone. We are members of the British Register of Accredited Monumental Masons (BRAMM) and adopt a completely professional approach.
All our cremation stones in Heswall are individually designed and crafted. You can browse through our catalogue for design ideas or tell us what you have in mind and we can help you create a bespoke product. All our stones are of the finest quality and they will last for a very long time. If you have an older cremation stone that needs refurbishments, renovation or repair, we can help you with that. Contact us for more information. We also help you with crafting the right inscriptions, lettering and wording on the stone. Some clients need help with the paperwork and submissions for church and council authorities. Our knowledgeable, experienced team can assist you with these details.