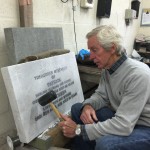 Stonemasonry is a specialised skill that is required to craft memorials and our stonemasons in Moreton are some of the few still practicing this craft. Many years of training is needed for anyone to call themselves a stonemason.  David Williams, our proprietor, is the only hand letter cutter in Wirral and is a fully time served mason. He has over 50 years served as a stonemason. The craft of stonemasonry is one of the oldest trades in human history.  There were stonemasons who worked on building the pyramids thousands of years ago. Like these ancient craftsmen, modern stonemasons also make long lasting memorials albeit with more modern tools. We can help you to design an exclusive memorial out of any kind of stone. We work in marble, granite, limestone and many other types of natural rock. Badges or other details can be carved into the memorial along with the inscription.
There are very few ways to honour and remember a much loved but now deceased family member. In Moreton, stonemasons will make you a memorial which encompasses the love and respect they engendered. Many families choose to mark the site of a burial of a family member with a headstone. These can be bought readymade but for many people a unique stone is more in keeping with their wishes. The emotional significance of the headstone or memorial is immeasurable to the family. The inscription is chosen to reflect the deep love and feeling of loss brought on by the passing of a beloved relative.
We supply beautiful headstones made by our stonemasons in Moreton. Contact Birkenhead Monumental today to arrange a memorial or to have an old grave marker restored and renovated. Many old stones need to be cleaned and returned to their original beauty. We have over 30 years of experience in the industry and can lovingly restore a memorial back to its unique and lovely condition. We take great care to erect all memorials to the exacting Health and Safety standards required and place them on a ground anchor foundation.