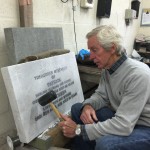 Give your loved ones the best lettering on headstones in Wirral to keep their memory fresh forever. At Birkenhead Monumental, we offer a comprehensive range of services to help you create a unique and memorable headstone with the most appropriate lettering. Such monuments are a tribute to the love and respect that the family-members had for the departed soul. They should also reflect the personality and life of the deceased person. We understand how difficult it is to choose the right type of inscription, lettering and design. In some cases, people know exactly what they want and the words they want to use. They may also have a good idea of how the entire monument should look, what fonts to use and the dimensions of the stone. However, in a majority of cases, people are overwhelmed with grief and they may find it difficult to attend to the practical aspects of creating the right monument.
Finding the right words at such a moment is not easy. In Wirral, lettering on headstones is something that will last for a very long time. It will provide future generations with information and insight about the departed person. That's why the right words are very important. They serve to remind people of the qualities and attributes possessed by your loved one. Sometimes a touch of humour reflects his or her personality and charm that may have been lost in a bland set of words. People usually want to express why this person was important to them, what was important to them, achievements, what was dear to them, and provide a sum total of the life.
There are different methods of adding the lettering on headstones in Wirral. Sandblasting and laser etching are the two most popular and commonly used methods. For more information on how we can assist you with lettering on headstones, contact Birkenhead Monumental. Ultimately, the words and the tribute should stand the test of time. That's why we usually advise clients not to be overly influenced by trends and fashions.  There may be church or civic regulations in certain places. In addition, the right type of font, colours and design help to create a unique headstone.