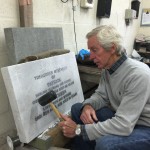 We do not necessarily have standard lettering on headstones in St Helens as our stonemasons can carve the lettering by hand. We have a full range of memorials in many different colours and have a vast choice of designs that can be applied to the headstones. These include flowers, religious symbols, military and sporting badges. Many people are very proud of their loved ones achievements and would like it recorded on the memorial stone. The badge or symbol can be painted according to the original colours. If you have lost a relative no amount of sympathy can bring ease to your heart but we can design a beautiful headstone which will last for hundreds of years to commemorate the life of your loved one.
Choosing a memorial is not easy at any time. In St Helens, lettering on headstones is a personal choice. We have many different typefaces and layouts and the inscription can be difficult to design. Feelings of love and caring can often be too long to fit on a memorial and that is why our team are there to help you. They understand how you feel and will aid you in choosing the right stone with the perfect inscription. The letters are filled in with paint to make them easily visible. We have many colours to choose from but the most popular are gold, silver, black and white.
We are proud to have some of the most artistic stonemasons to do the lettering on headstones in St Helens. Contact Birkenhead Monumental today or visit our showroom where you can see the most exquisite headstones. Our family run business has been helping people mark the graves of loved ones for over 50 years. David Williams is our most qualified stonemason and completed his time in 1968. He is the only hand letter cutter in Wirral. Once the stone has been made our experienced builders make sure it is erected to the stringent Health and Safety standards that apply to headstone erection.