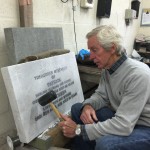 When you want to memorialise a loved one with inscriptions in Eastham, it's wise to entrust the work to an expert like Birkenhead Monumental. We have been in the business for more than half a century and during the time, we pride ourselves on having provided dignified, lasting tributes to hundreds of family-members of their dear ones. Our proprietor, David Williams is a distinguished craftsman and the only person who still hand-cuts letters in the Wirral and a full time serving mason. Ours is a family-run business with all members being fully involved in it, along with a dedicated and talented team of craftsmen.
Our dedication is to ensuring that you get exactly what you've envisaged, along with top-quality work and materials. In Eastham, inscriptions can be of varying designs, styles and types. At our customised facility in North Cheshire Trading Estate, Prenton, we offer a one-stop solution to our customers. So you don't need to waste time and effort on getting the memorial inscription designed in one place, sourcing the stone or tablet in another, getting the work executed somewhere else and then finally looking for an expert to install it. This can be challenging especially when you're still going through a period of grief as you mourn your loved one. Selecting exactly the right type of inscription can be a difficult task when you're not used to doing it regularly like we do. The inscription is something that will last for a very long time to come, and it is an enduring reflection of what the departed person meant to his or her family and loved ones.
Most of us shy away from the usual clichés when we select words for inscriptions in Eastham. We wouldn't like to have the oft-repeated "In Loving Memory Of.." kind of words. Instead, we'd like something unique and memorable. If you would like the epitaph to be meaningful and something that would catch the attention of anyone who happens to glimpse it, contact Birkenhead Monumental. Give us a call or visit us and let us know your tastes, preferences and budget so that we can provide exactly the right inscription for you.